These are some things I want. (I DO have a birthday coming up!)
1)
Wacom Inkling
.
Whaaaaaat!? I foresee this being super back-ordered for, like, ever.
I love my Wacom tablet but the texture is so different than paper. THIS would fix that. I would love to compare the two!
2)
Hinge Clamps
for screenprinting
Not too glamorous. I'll probably order them next week. I have some multi-color print plans in my brain that I'd like to try before the end of the year and my current eyeball-your-registration-and-waste-a-bunch-of-paper-and-cry technique isn't gonna cut it.
3) This Year of the Tiger print from
Little Friends of Printmaking
.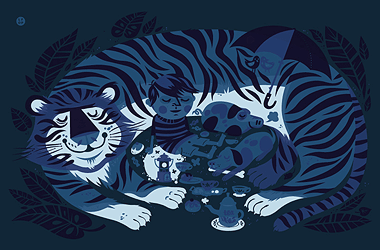 Precious. Perfect.
4) The
Semikolon Creativo Large Organizer
from Pierre Belvedere.
I wish there were real photos of this somewhere online. It has lined paper, a perpetual calendar and, if I remember correctly, some stickers! IDEA depository!
5) This enamel kettle (for the next time I go camping).
I don't drink coffee but I bet this would boil up some tea water real nice.